Whilst Tesla are now very good with the build quality of new cars, some small niggles can slip through the net. The Tesla warranty will cover any problems, but some potential issues are far easier to get sorted (such as minor paint defects) BEFORE you leave or go past the first 100 miles of use. This list of things to check will (hopefully) speed up that process and ensure you've not missed anything so you can get on with enjoying your fabulous new car.

Before you get your Tesla you should:
Things to check on collection day
If there is a problem note them down and photograph them, make yourself known to the staff on-site and/or create a service request with photographs and descriptions of any problems ASAP (ideally within 100 miles of collection).
Examine the paint and lights – A simple walkaround looking at every painted, plastic or glass panel, and the lights

You're primarily looking for scratches, scrapes, dings, chips, glue, swirl marks (from improper cleaning), dents or polish residue on the external surfaces of the car
NOTE: Paint from Shanghai (China) built cars (VIN starting LRW) is vastly superior to Fremont (US) built cars (VIN starting 5YJ) but if you want to go one step further and depending on your level of knowledge also look for paint overspray, orange peel (the paint resembles the skin of an orange peel) and poor or thin painting (look at reflections in the paint to see bottom coat)
Ensure you double-check the paintwork in these areas:

Door sills (open each door)
Boot lip area (open the boot)
Frunk lip area (open the front boot)
Bottom edges of the car (not normally visible unless you duck down)
The front and back bumper edges/sides
Wheels and whilst you're there the wheel wells (the area where the wheels sit, there is noise dampener material here as well so check all of that looks decent and secure)

Lights – Check for condensation or marks, check they're aligned with the bodywork as well
Glass roof and windshield – Check for raised plastic/rubber around the edge and that the glass is free from any imperfections
[Unlikely to be an issue and you may end up with dirty knees] – the undercarriage of the car, look for scuffs, marks, missing plastic/screws etc

Check exterior panel alignment to ensure the gaps around the panels/glass etc are equal and no single panel protrudes excessively from the other, check the following:

Dechromed areas
Frunk
Trunk
Doors

Open and close the following ensuring they function as intended without noise/squeaks/rattles and no rubber seal is lose etc

All the doors
The charge port
The windows
The centre console between the front seats
The glovebox

Examine interior for marks, scratches, blemishes etc:

The seats & the roof headliner should be clean and free from defects or marks
Check the screen and centre console
Check the steering wheel including the back (where you grip)

Double-check the functionality of the

Seats (adjustments etc)
Sound system [very uncommon] – Play some music in the car to just check everything sounds fine, consider moving the fader around to each corner of the car to check all speakers are working
Wireless phone chargers
Lights

Check delivery mileage, should be around 10-30 miles. The industry standard is between 10-50.
Check you have the following accessories

The correct cables

Type 2 Blue or Black Cable (often branded Mennekes)
A Mobile Connector (with a 3 pin standard plug on it) normally in a black box/bag with 'Tesla' written on it

The USB stick in the glovebox
Car Mats
Emergency Kit (Warning Triangle / First Aid Kit etc)
All other accessories purchased on https://shop.tesla.com/en_gb will have been sent to your home/work address

Check you've snapped a photo of it looking all clean and pristine and tag @TeslaOwnersUK on Twitter, Instagram or Facebook with your photos so we can reshare them!
New to electric cars? Consider turning on Chill Mode – If you've not driven an EV before remember these cars will likely outperform any previous car you've ever driven, because of this a few owners in the past have ended up crashing on the first day so consider turning the car into 'Chill' Mode for your first few drives until you get accustomed to the performance.

Although uncommon remember if you have a car you're not happy taking away due to an issue, you have every right to decline the handover until the problems are fixed, when this has happened in the past Tesla has been very accommodating in offering a loan car whilst the issues get fixed (subject to availability/locations etc).
Once you get your Tesla home, a few things to consider:
Go and drive it! – Go and try a supercharger (a good excuse for a first drive)
Download/Save Zap-Map, Plugshare and ABetterRoutePlanner Apps to help you find 3rd party chargers
Getting the paint protected with something like Gtechniq, Liquid Elements, Opticoat, PPProtect or similar Ceramic paint protection, this will give you a protective coating that will help prevent scratches etc. Note: Tesla can't recommend any of these services so use the group search to confirm which is best for you
Swap your home electricity to 100% renewable (search the main discussion group for a referral code to knock £25-£50 off your bill)
Just spend a few seconds double checking all the information on your V5C is correct and matches the number plate etc.
Respond to the surveys that Tesla send. These are checked by the senior team weekly.
Consider your next roadtrip or joining other like-minded owners on one of our events
Become a paid supporter of our not for profit club to gain various benefits
Follow Tesla's Maintenance Guidelines to lower your chances of something going wrong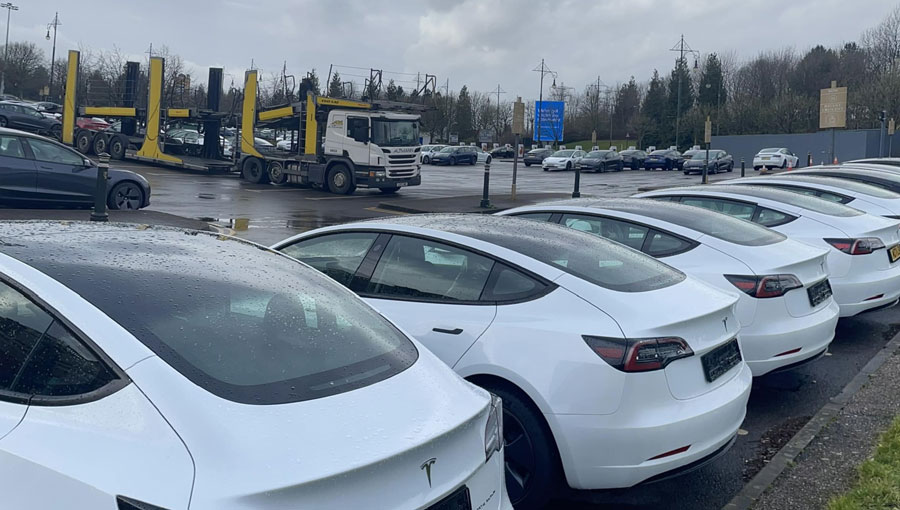 FAQs
How did version 1 and version 2 of this document differ? Did Tesla listen? Since our Version 1 (from 2017) and Version 2 (~2019) of this document was used by many new UK owners it was noticed by staff and management at Tesla UK / Europe, meetings took place and the list was cross-checked at both production and assembly to improve things, we're pleased to confirm ever since ~2020 the majority of vehicles arriving into the UK have been close to perfect, but some issues still do get missed so we've therefore updated this list as a whole to better reflect changes to the vehicles, assembly and PDI and removed certain issues that are very infrequent now.
I've spotted an issue after I've left the collection what do I do? Open the Tesla app and report it on there (give as much information as possible including photographs) – If you have other issues as well get them noted on the booking as well
How will Tesla fix my issue? On the day of collection, they have staff there to help solve most issues, failing that a Mobile Technician will be scheduled to visit your home/work etc OR you will be asked to drop your car off at your local service centre and either given a loan vehicle or asked to wait.
Do I really need to point issues out on the day? Pointing any issues out before you leave isn't vitally important and if you only notice something days later then don't worry as Tesla will rectify these issues.
Why does Tesla only give me 100 miles to raise issues? Tesla UK stipulates issues must be raised within 100 miles of collecting the car and whilst this is fair and much easier to do, UK Consumer Law actually gives you up to 6 years to raise any concerns with the vehicle and by default if an issue is raised within the first 6 months it's assumed the fault came with the car from new, that said to remove any headaches we suggest you do a full check before you drive away and raise all issues (especially with external paint) within the 100 miles.
Tesla is refusing to solve/fix an issue, what do I do? Generally Tesla are very accommodating but if they believe an issue wasn't there at the time of delivery they have the right to argue that, so it may very much be a case of coming to an agreement (this is why it's really useful to do a full check before you leave / within the first 100 miles). If that isn't possible the club has a really useful guide explaining consumer law, how to escalate issues etc here
Article originally written by Will Fealey Sept 2017 and continually updated until Feb 2022, photos courtesy of John Tassell, @tomahhunt, Alan Tong and Tesla.
Remember to enjoy the experience and snap plenty of photos (and remember bringing Tesla staff cake is optional)
One of our members who took a superb cake for the Tesla staff when he collected