IMPORTANT: Remember modifying your vehicle may invalidate part of its warranty so be careful and check with Tesla if you're unsure, also any modifications will most likely need to be OK'd with your car insurance company.
NOTE: To the best of our knowledge, these guides are correct and factual however we take no responsibility if something does go wrong. If you spot a mistake please ensure you alert us.
This guide is for sliding centre console door that sits between the phone mount and the main screen, if you're looking for other parts of the car to wrap see this full guide to wrapping the interior of the Tesla here.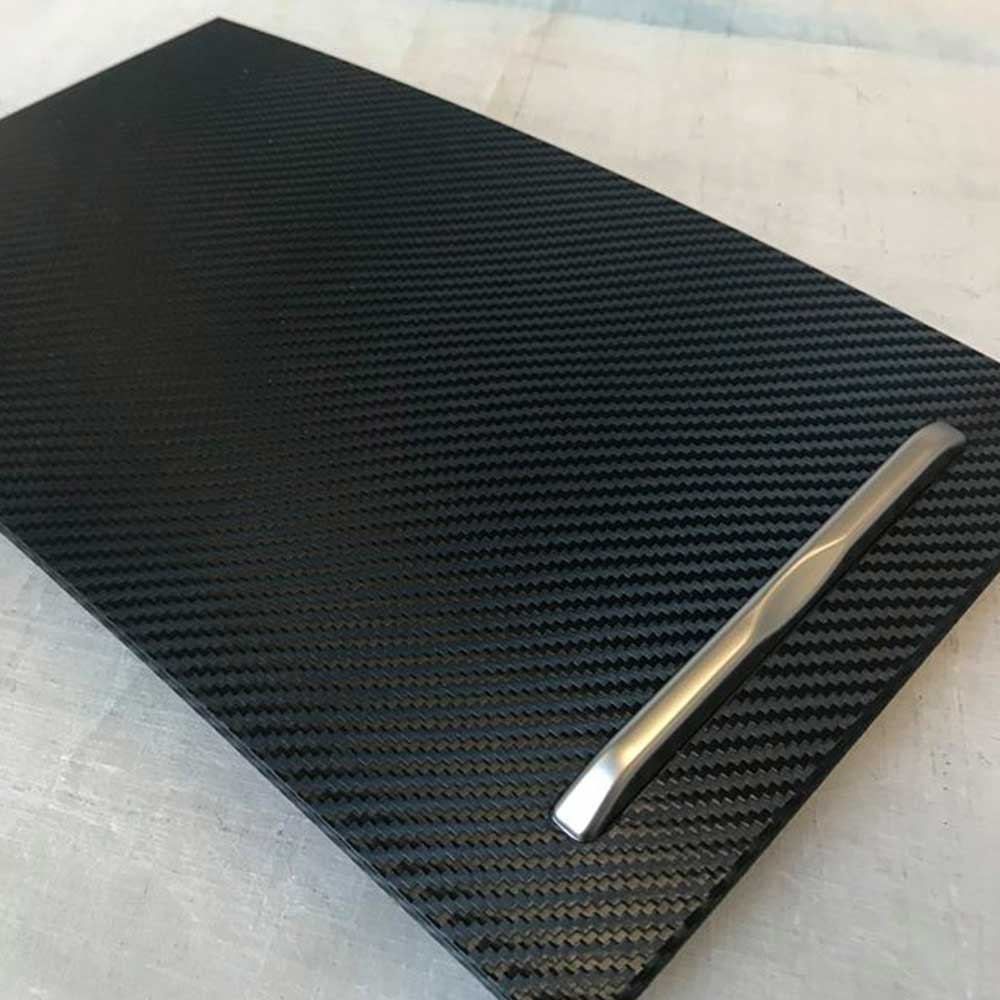 Important notes before we begin
Tesla sell this part in carbon fibre for £80 so you may consider this as a quicker option.
You can buy a pre-cut piece of carbon fibre from RPM Tesla and follow this YouTube video – Again this is probably a quicker solution
All new vehicles (Middle of 2017 onwards) have this piece wrapped in carbon fibre already
Most likely this method will cause a slight knife mark on the existing material (that you're covering) around the chrome piece, however, it should offer a superior solution to RPM Teslas version (in theory but it will depend on your ability to cut straight)
To start you have three options:
Remove the top piece of the sliding mechanism to wrap (fairly easy to do but not easy to put back together)
Wrap it in place (fairly easy to do but you will have to cut the piece of vinyl perfectly within the car which will be tricky and risks damage to the rest of the car)
Remove the whole unit – Now if it's the Premium Drop In Center Console Assembly, aka was an OEM aftermarket install and didn't come as standard that process is fairly simple (check this YouTube video) but if you have the factory fitted centre console it's a little more complicated as it's more integral to the car
I went for option 1, which worked to a point and then I broke one part (later fixed by Tesla) but I learnt some valuable lessons to hopefully stop it from happening to you.
So the actual plastic cover slides off and can be removed from the runners, however, in doing so you have to force the underneath tray upwards (which can cause damage to the leather surrounding) instead you can remove
What are my options?
The best method of wrapping the Tesla is by removing each panel you require to be wrapped and wrapping it outside the vehicle, however, it is possible to wrap without doing this if you don't want to run the risk of breaking a clip etc.
Buy some 3M carbon fibre vinyl (3M DI-NOC carbon fibre Matt vinyl), make a paper template, cut oversized then hair drier & a bit of patience. All the panels pop off enough to tuck ends under (use these tools). Requires lots of time and effort but worth it in the end.