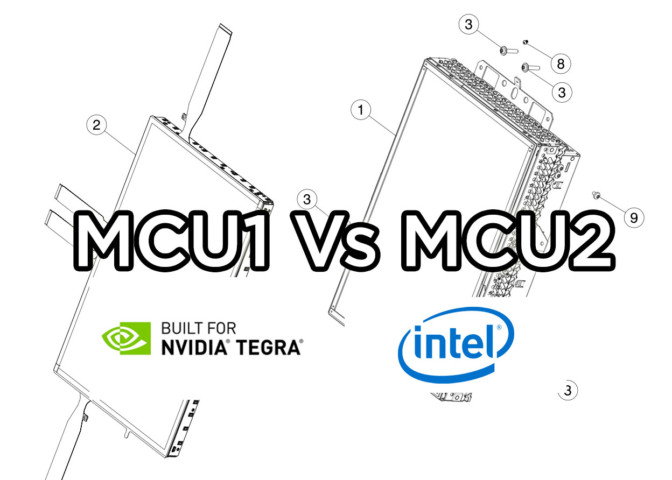 MCU stands for Media Control Unit, it's the main computer in Tesla Model S and X vehicles and includes the touchscreen, processors (brain), RAM (short term memory), non-volatile memory (longterm memory), the audio subsystem, 5 amplifiers, WiFi, Cellular, Bluetooth, GPS, the Ethernet bridge, multiple CAN bus communications, the LIN bus, USB ports and many more. and the main computer for the car (excluding AutoPilot) there have been to date two versions of this in Tesla cars:
MCU1 – from 2012 to early 2018 (March-May) which is based on an Nvidia Tegra 3 chipset

Prone to eMMC chip failure due to the 8GB eMMC chip and excessive software writing to the chip
Prone to slowing down over time and temporary glitches
The technology didn't improve much between 2012-2018
The software has improved various aspects of the MCU over the years, most notably in 2018 with a browser update
Tesla now offers a refurbished version of the MCU1 computer with an upgraded 64GB eMMC chip

MCU2 – from 2018 (March-May) onwards is an upgraded version featuring:

Faster CPU based on an Intel Atom E8000 series CPU (x86_64), results in smoother and faster operation across the whole experience
The browser is built on Google's Chromium platform
64GB eMMC Chip (Vs 8GB on MCU1)
WiFi Support for 5 GHz band
External Bluetooth Antenna
Enhanced Driving Visualization for owners with Full Self-Driving Capability Computer
The ability to record from all cameras for DashCam and Sentry Mode for cars with the Full Self-Driving Computer
Many of the Fun Games and Video Streaming capabilities
How do I tell which MCU I have?
MCU2 was fitted in "early March 2018", in terms of UK deliveries that's probably May-ish 2018 but to be 100% sure you can do the following:
Reboot the display using the control wheels on the steering wheel, hold both in for 10 or more seconds, if both displays reboot, then the vehicle is equipped with MCU2, if only one reboots then you have MCU1
If you have Netflix/Cuphead game you have MCU2
You can also visit https://teslatap.com/mcu (on the in-car browser, obviously!) to find out which one you have.
Can I upgrade my MCU1 to MCU2?
UPDATE SEPTEMBER 2020: MCU1 -> MCU2 upgrades now available in the UK, book via your app.
Click here for the most up to date price + Tesla info
Yes, owners of all Model S and Model X vehicles with AP2.x and Tegra MCU are now eligible to book for MCU upgrades.
Note that upgrades for pre-AP or AP1 models are not available in the UK yet and there are no timescales for this procedure available.
MCU upgrade is a voluntary procedure provided on a customer-pay basis.
All customers are welcome to schedule their appointments for this procedure as per normal via the Tesla App. The Tesla team will review and reconfirm eligibility as a part of the appointment preparation process.
What are the benefits of upgrading an MCU1 to MCU2?
When I was weighing it up I couldn't find a decent list of changes so here is what I have cobbled together marked as 
 for faster functions, 
 for returning failed MCU1 functions and 
 for new functions:

Faster screen response

Faster boot-up

Faster loading of maps etc

Faster planning and display of trips

Stable operation

Car goes to sleep better now (my experience) which may save small amounts of energy

Web browser now works quickly

Voice control working and reliable (voice commands and dictating to phone etc)

Hi-Res playback from USB now works again for me all the way to 24 bit 192 kHz files.

Display of artwork seems better now than before on podcasts etc when playing over Bluetooth from phone.

LTE signal has improved for me

SIM card upgraded from 3G to LTE for early cars

AP3/FSD computer upgrade included

FSD visualisations

Web browser allows video playback

More advanced games in addition to the basic ones on MCU1

Netflix/YouTube and web-based video playback

Caraoke

Wing cameras visible with the rear camera when reversing

Sentry/dashcam mode adds rear camera (coming from AP2.5)

Sentry/dashcam functions (coming from AP2)

Playback of sentry/dashcam on screen

5GHz WiFi added to existing 2.4GHz

External Bluetooth antenna (rather than built into MCU1)

DAB radiotext info now displayed

Dynamic switching between the DAB and FM versions of the same radio station depending on signal quality

screen itself appears to be slightly brighter with noticeably better colours, especially on satellite view. Faster refresh rate too?

Dolby Surround (on/off) replaced with Immersive Sound (Off/Standard/High)
Is the MCU2 upgrade worth it?
My logic is that it will add value when I come to sell it (maybe enough to cover upgrade costs considering it might lead to it being more in demand), and it makes the car more enjoyable to use while I continue to own it. <<I realise that for many people the MCU1 deterioration should never have happened, and should be corrected urgently, but that debate isn't the intention of the post; just to inform about functions gained if someone elects to pay to upgrade>>
Can I speed up my MCU1?
Whilst most of these won't clog up that much data, when combined it can (although it shouldn't) slow down your MCU1, so try the following (one by one and between each one leave it a day or two and do a reboot/reset):
Clear the trip logs/computers/meters
Clear the previous destination history on the navigation (annoyingly you have to do them one by one by swiping on each one)
Remove USB devices (especially if you have music files stored on them)
See if the browser is on a complex website (e.g. with lots of graphics)

Simplify any Spotify playlists

Disconnect your phone's bluetooth, storing lots of contacts in the car can clog up space on the MCU
Switch off traffic indication on the map via the traffic light icon (big improvement)
Switch to "North Up" map display (tangible improvement)
Reporting the issue with Tesla (& request a software update)
See if something on the above devices is corrupt (e.g. a phone contact or music file)
Do a factory reset (not ideal as you will lose all data and have to reconnect to the car again)
Will Tesla Swap my MCU1 for an MCU2 if I have an issue with it?
No, currently they're still swapping MCU1 with MCU1 builds if it's a warranty replacement, it's unclear if this will continue forever.
I have Autopilot 2.0 / HW2 do I have MCU2?
It's a separate unit so doesn't come into it. Use the checks above to see which MCU you have.
I've paid for FSD will I get MCU2 in the future?
If you bought FSD Tesla will give you the new AP computer ("HW3") but that's unrelated to MCU.
Will I get Dash Camera and Sentry Improvements with MCU2?
No, these are part of the AutoPilot system with HW2.5 or above
So how will I get MCU2?
UPDATE SEPTEMBER 2020: MCU1 -> MCU2 upgrades now available for £2000 + VAT.
Nobody will get MCU2 unless a) Tesla decide to offer an upgrade and b) people pay for it.
Do we have an idea on the cost to upgrade?
Not really, it's estimated that a MCU1 whole replacement would cost you £2,500 so we expect it to be around this price (thanks to Moore's Law). However, other changes are rumoured to be required as well, e.g. the instrument cluster screen, which means more parts and more labour costs sadly.
If you can upgrade is it worth it?
You will get a faster computer, have improved features but probably the most useful (for everyday use) is the speed up of the navigation and map rendering.
https://www.youtube.com/watch?v=EqqCDi0GeS8
This article uses information adapted from TeslaTap and the knowledge of several in the UK community.