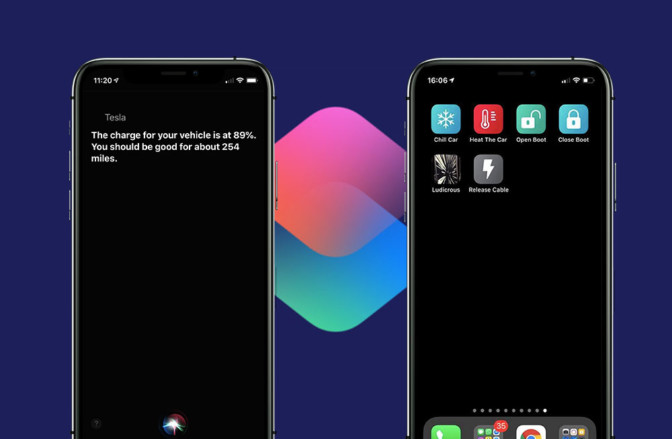 Natively built-into the Tesla app on iPhone is the ability to use voice recognition to control your Tesla or to hear the current status of your car. Sadly Android doesn't have this functionality built in natively, although there are other solutions for this but they're far from perfect.
On iOS follow these steps to enable:
1. Ensure you have the latest version of Tesla's app and car software.
1. Settings (scroll to the bottom of the page) > Tesla > Siri & Search > ensure all are selected.
1. Then go to Setting > Siri & Search to ensure 'Hey Siri' is on and/or your preferences are setup.
What commands can I say?
Start with 'Hey Siri'
How much charge does my car have?
Lock/unlock my car
Flash the headlights / Flash the headlights on my car (you will be asked to confirm)
Honk the horn on my car / Activate my cars audible signals
Where is my car?
What is my cars state of charge?
What's left in my car's battery?
Do I need to charge my car?
Is my car locked?
Note: If you attempt to use any of these commands while your phone is locked, Siri will ask you to unlock your phone first (through Touch ID, Face ID or passcode).
It's currently not possible to set climate control, turn on valet mode, or to open the trunk/boot or frunk through either currently, you would need to follow the below steps for that.
Note: if your car is asleep it come sometimes mean Siri doesn't react in time.
Looking for more functionality?
[Advanced owners only – possible security implications if you follow this]
You can also use apps like Apple Shortcuts or the Android App Tasker to go a few steps further, for instance, you could setup a shortcut/task to 'Release the charging cable and open the boot' when you say 'Hey Siri, open the car', however, the problem with these more advanced options is that these may require you to use another app integration (that isn't from Tesla) which means you will share your Tesla login information with a 3rd party which is NOT recommended. For further info on Shortcuts read this mini guide but in short it revolves around using a 3rd party app (which isn't recommended from a security point of view) like https://apps.apple.com/gb/app/remote-for-tesla/id991623777 to connect with the iOS Shortcuts app.
For Alexa / Google Assistant support follow
NOTE: these skill is in no way affiliated with Tesla Inc and by signing up you risk the security credentials of your car
https://www.amazon.co.uk/gp/product/B01N6NDMHX
or https://assistant.google.com/services/a/uid/00000077f000c627
or do some further research into alternative solutions