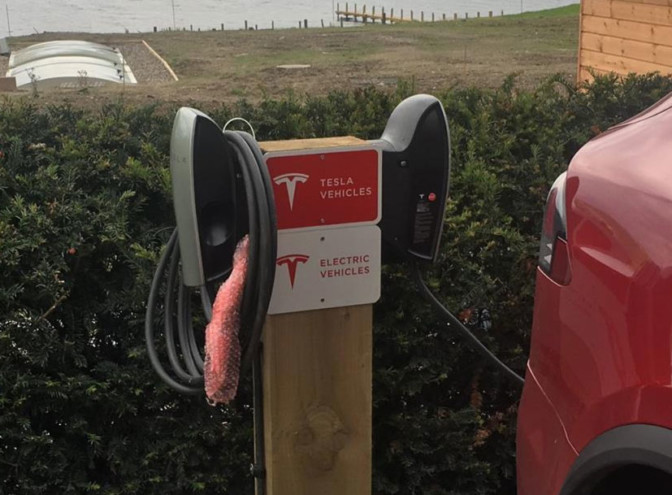 What are the costs?
All destination chargers are free to use although there may be an expectation to use the services at the location where the chargers are situated, e.g. restaurant/hotel guests only. It's extremely uncommon for a location to charge for the electricity consumed especially if you're a paying guest, however, some locations may attempt to add extra to your bill for charging your Tesla, this is frowned upon by owners.
Do I need an app or card to start the charge?
No, just plug in and charge.
Do I need an adapter or cable?
No, all Tesla destination chargers are Type 2 Tethered Cables.
Notes
Tesla destination chargers will be indicated by either a white or red sign. Ones with a red sign can only be used by a Tesla whereas a charger marked by a white sign is open to all EV owners to use and is not dedicated to Tesla owners. Locations will often have a mix of both, normally the rule is 2 Tesla chargers to 1 EV chargers. Tesla owners' can plug into either but aim for a Tesla only version if available. Some locations may require you to book a space in advance., if you will be relying on the power for your onward journey it's recommended to ring up/mention at time of booking that you will need to charge. Links: See the in car navigation for locations | Learn more | View map | View full list of locations
When should I use a destination charger? These locations are designed to:
Keep your car topped up when on holiday for day trips, e.g. destination chargers at hotels
Get you back home from a day trip, e.g. destination chargers at restaurants/museums etc
Give you a boost whilst on a road trip e.g. destination chargers at restaurants with no hotel facilities
Can I use a destination charger when I'm low on energy?
Yes, but it's advisable to check with the location as some will be only for paying guests/already reserved. A nearby paid CHAdeMO charge probably will be a better solution for you. Most destination chargers will allow you to charge in an emergency.
What is the destination charger etiquette?
How can I recommend a destination charger location?
Visit this Tesla.com web page and submit a request