You get a set of Tesla-branded standard fabric mats with all cars.
What about Tesla all weather mats?
The online store sells SOME of these, often more are available if you speak directly with Tesla Parts at your local service centre.
These are not cheap, and cheaper alternatives are available.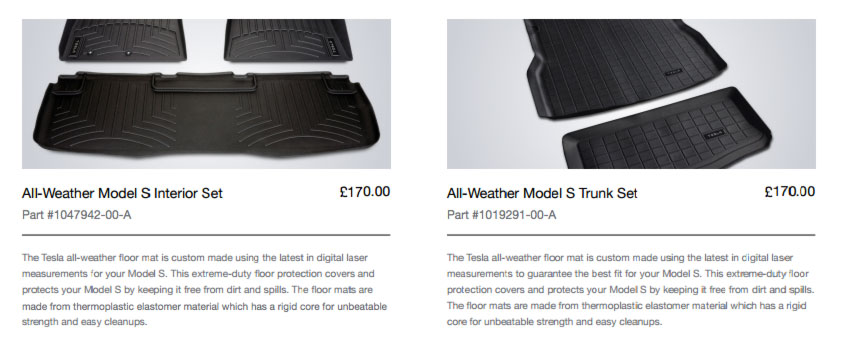 Trunk set
If you've got a dog in the boot or have a tendency to do trips in your Model S to the dump/tip etc then the Trunk set I think is a great option.
Interior Set
If you do lots of trips to snowy, wet locations then the Interior set is a good option.
The problem with all weather mats:
They're a pain to clean, even after a full wipe down with a damp cloth they were still pretty dirty.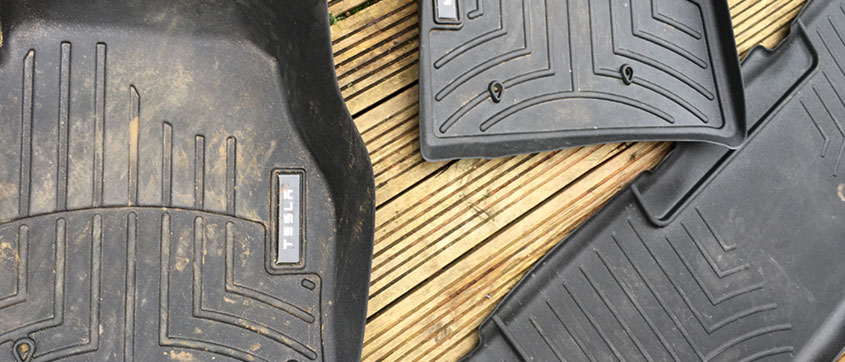 And the edges on the two in the boot/trunk curl up on them constantly, which looks naff.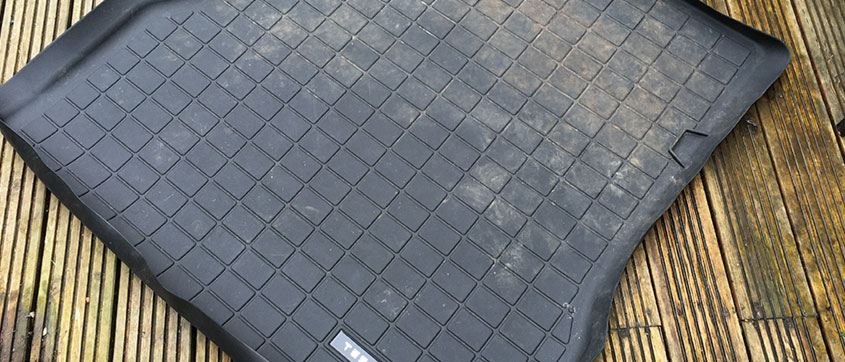 I've resorted to a pressure washer to clean them now which seemed to do a better job than hand cleaning.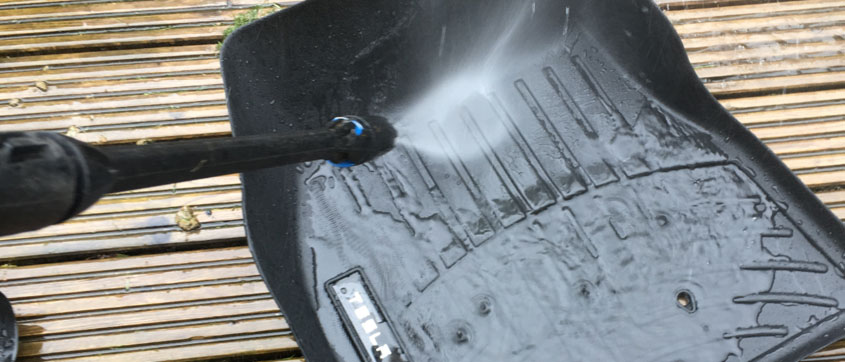 The alternatives:
Note: Paid supporters get access to several discounts on car mats
Autostyle mats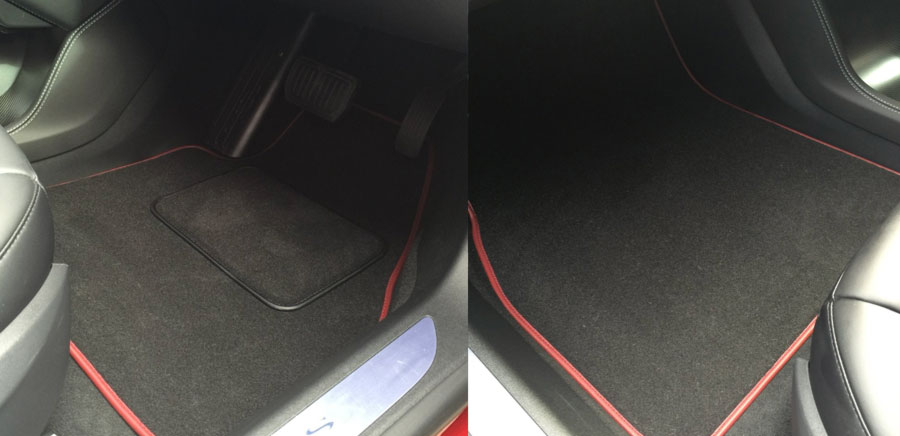 "Since I couldn't find ANY UK manufacturer of mats that listed Tesla as an option, I contacted Peter at www.autostyle.co.uk. They had the patterns for LHD Models S but not RHD. Consequently, I sent him the patterns (taken from my original mats) and they produced these for me. The quality is significantly better than the standard Tesla ones. These were made with their 'Premium' carpet and you can customise them in whatever way you choose. Price around £72.00 delivered. Peter has yet to add the Tesla option to the website but if you email them (sales@autostyle.co.uk) you can order them direct. I have no affiliation, just passing the info on to others who may be interested."
Car Mats UK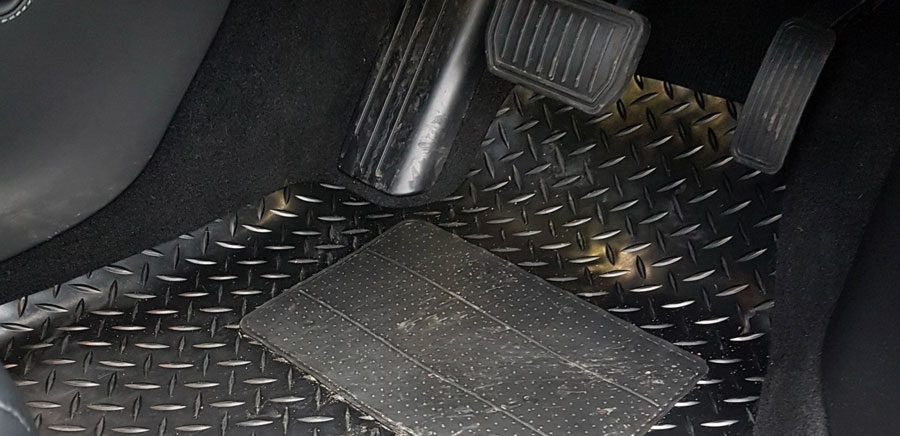 Luxury £30. Standard £20. Excellent quality and fit. https://www.carmats-uk.com/cm/tesla
Cocomats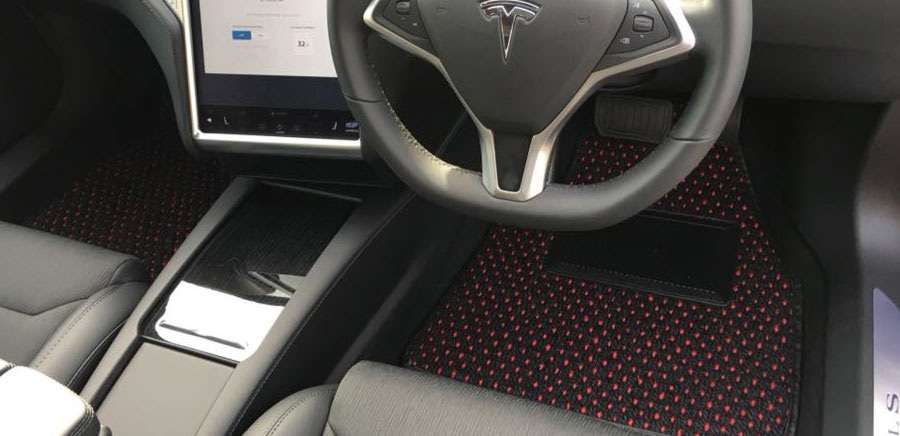 "They're not cheap but amazingly heavy and rugged and will likely last forever. They were $425 shipped. They were the first RHD ones they'd made so sent me full sized PDF of LHD to print and try in the car to see if they were just mirror image – rear was, but fronts weren't so I had to then go back to a service centre to draw around them, get them scanned, and email back – they then made them to those templates. Really pleased with them (I have them in my old 911 – heard about them through that as seem to be popular in classics especially)"
Christian Special (use both Tesla original mats + all weather mats together)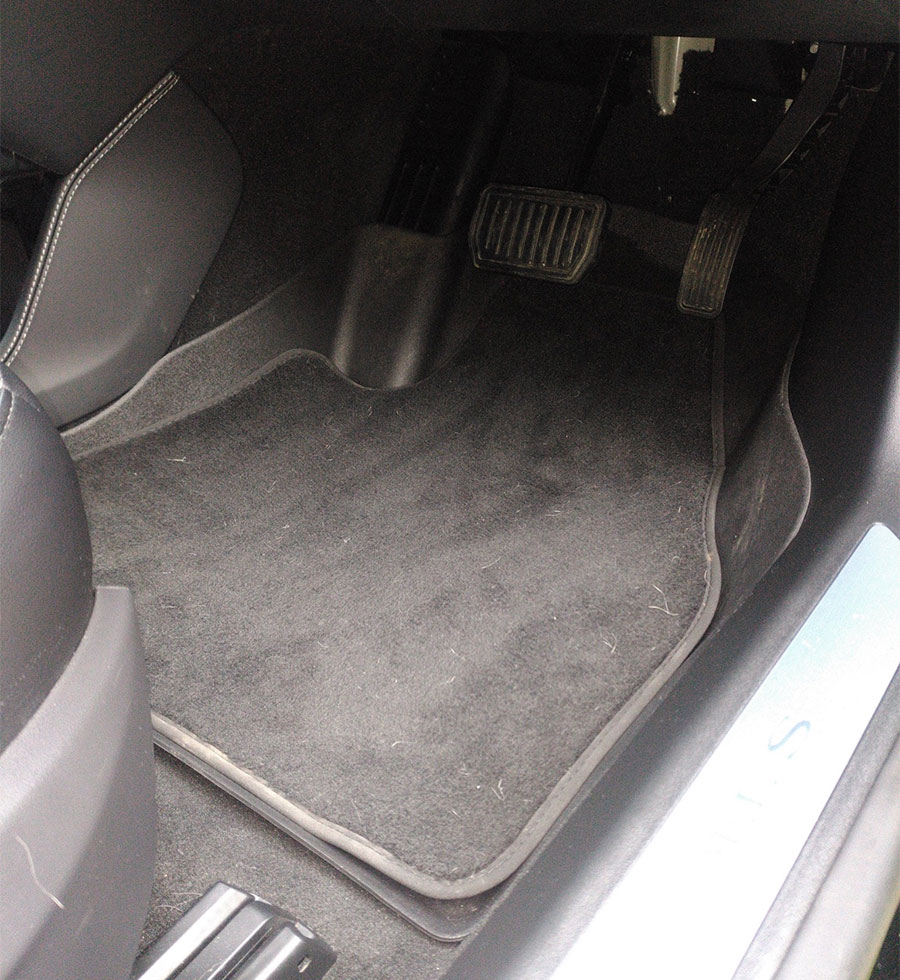 This combination contains both the Tesla standard mats along with the all weather mats and a DIY approach to stop them moving.
These Tesla tailored rubber mats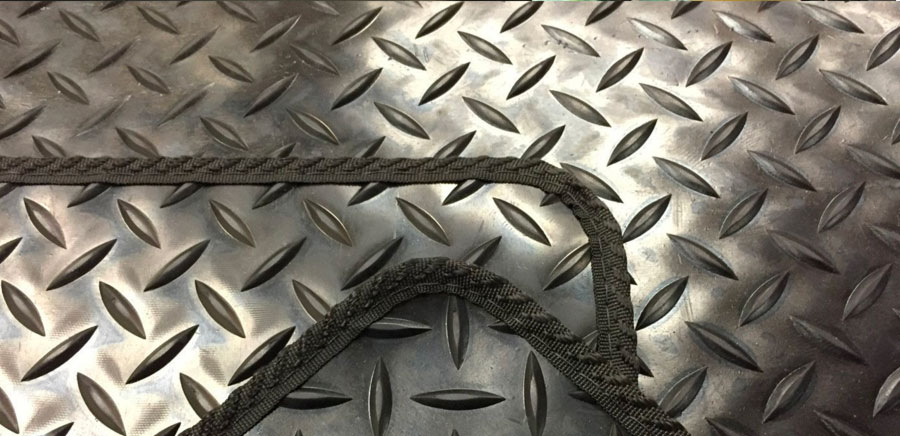 At sub £30 these are very cheap, unsure on the quality though.
The £35 Boot Mat from Germany
"Installed my eBay purchased boot liner today. Really impressed with fit & quality. Nice thick rubber & although it came rolled, it flattened out well & sits reasonably neatly in my MS60 Facelift. Good addition with winter coming & buggies/small children cr@p being dragged in & out."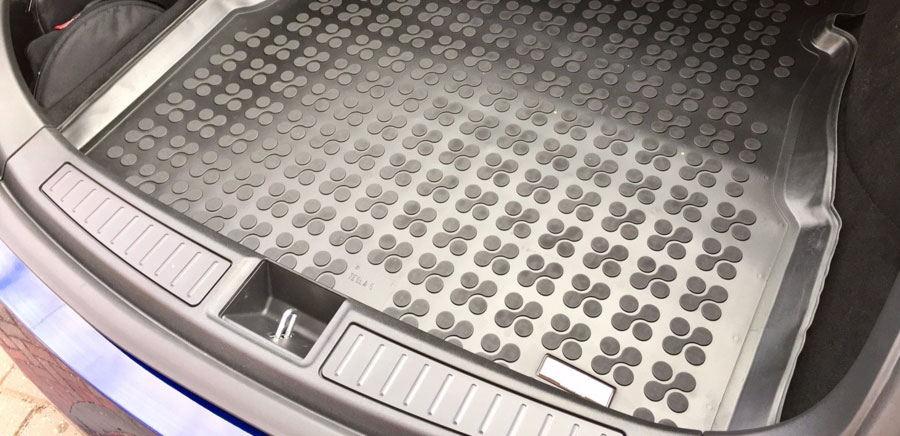 Rhino Boot Covers (£75-£140)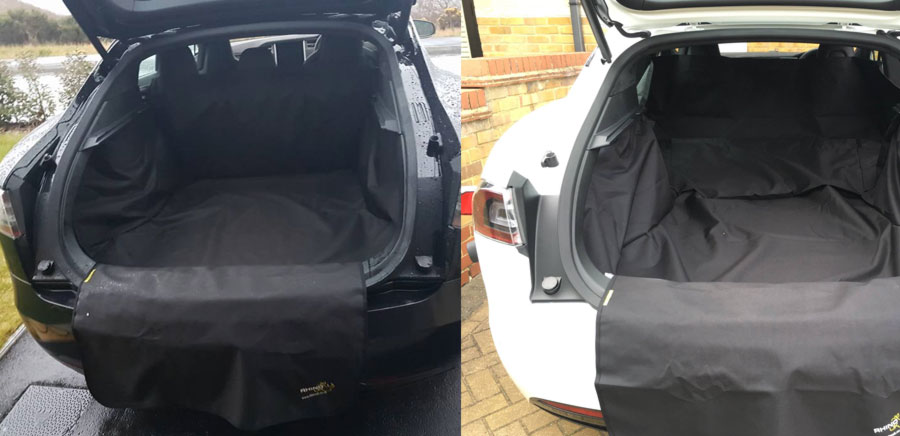 Rhino UK Bootliners Ltd offered to make one a custom fitted boot liner for the Model S after Gwyn Williams contacted them. It's made in the UK, costs £75-£100, it's made from good quality materials and it decent perfectly. Thanks to Tony, Richard & Will for their photos.
£75 for boot only (top left image)
£105 for extended (bottom image) – this goes from the rear boot to the front seats
£135 for extended + velcro split (top right image) – this goes from the rear boot to the front seats with a split so you can remove the unused half if you just want to use it in the boot
Some owners have stated that these don't fit as well as they would like and it's true these aren't perfect but they're good enough for the price point IMO.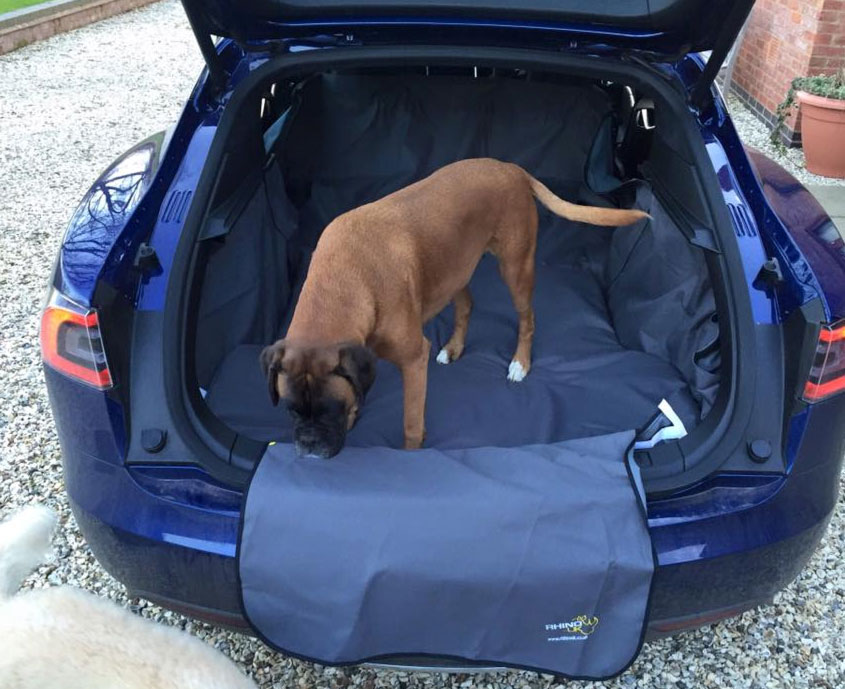 Boot Buddy (Model X + S) Sub £200 option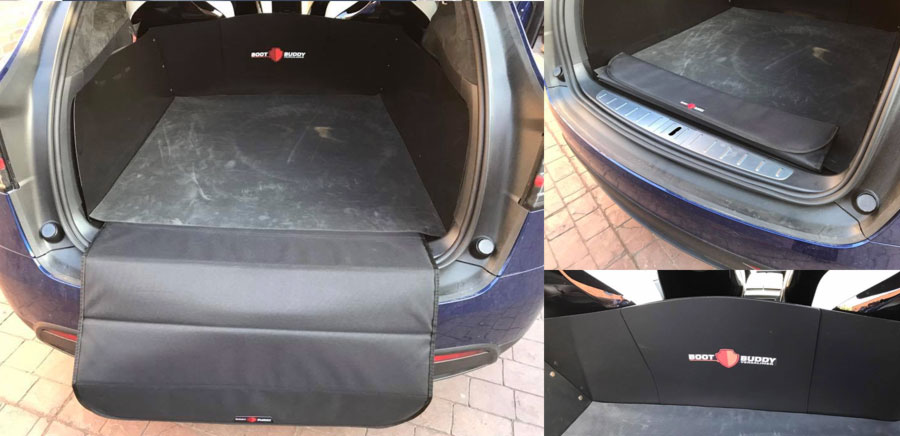 This £167 (including VAT + Delivery) boot liner is designed for the Model X, they also do a Model S version but I've not seen any owners with one.  The Boot Buddy is made from 1.5 mm gloss black pvc sheet, some Velcro strips are provided but it's use is optional. Order from this website
Topfit boot (sub £40 option)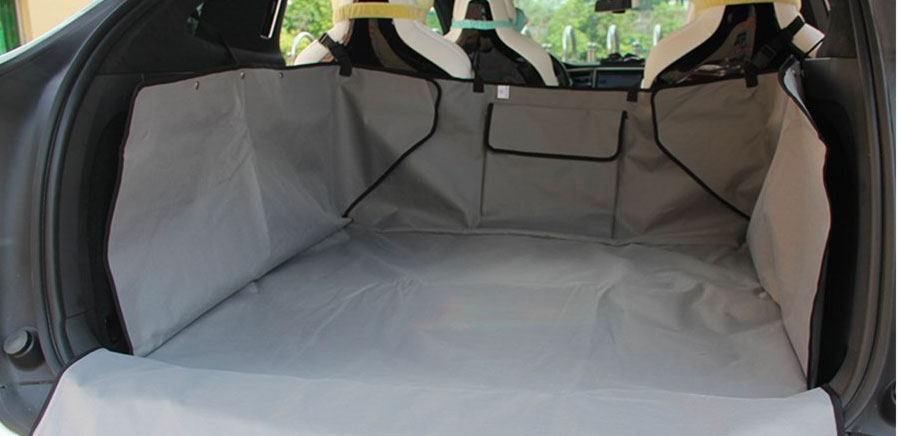 I've not seen anyone in the UK with this set but the price is under £40 so could be a good budget option