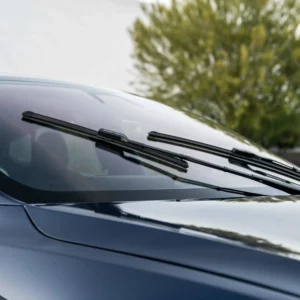 For those who don't mind a bit of DIY preventative maintenance on their out-of-warranty Model S then you might be interested to learn that the windscreen wiper mechanism need not be an inevitable, high mileage >50,000 miles replacement.  The offside wiper spindle is prone to wearing heavily after a few years which tends not to be noticed until there is so much play in the spindle that the driver's side wiper arm wears a groove in the bonnet.  The cost of the assembly is approximately £170 and if it is replaced by a Tesla mobile technician the total bill could be over £400.

Once the wiper arms are removed (followed by a circlip, washer and then a rubber 'O' ring) the spindle can be lowered slightly to apply some lubricant.  Whilst the plastic scuttle cover was off I squirted some lithium grease on the other pivots.  There are some videos on YouTube showing how to change the wiper assembly

,

here is just one: https://youtu.be/h4ICrDADugU

Warning: whenever working on the windscreen area, place a thick coat/old towel/carpet/thick cardboard over the windscreen to prevent accidental breakage.