85 Falcon Road
England
SW1A 2DX
GB
Tesla Owners Club UK has partnered with the world's largest car-sharing marketplace, Turo. For the first time ever, Tesla owners in the UK can now make an income sharing their cars.
Thousands of Tesla owners already monetise their cars by sharing them on Turo in the US & Canada, whilst encouraging new drivers to make the switch to an EV by offering test drive experiences.
As an exclusive offer to invite Tesla owners in the UK to share their cars on Turo, Turo are doubling the first £400 earned for all Tesla Owners Club UK Members (terms apply).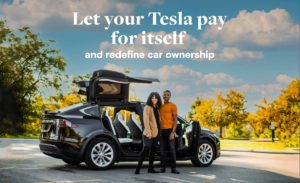 255546955_2965192153735643_3045241914836463328_n.jpg
6 months ago
You must login to post comments
CleevelyEV is the first independent workshop offering electric vehicle service and repair. We car...
Q-Park Car Park, Park Lane, London W1K 7AN
UFODRIVE operates a fleet of Tesla rental cars in several London locations.  Each car has a home ...